Looking for Outdoor Night Party Decoration Ideas? Check out these creative decoration ideas! From lanterns to candles, each one is perfect for adding a touch of elegance and glamor to your event. Whether you're hosting a themed party or just want to create an inviting atmosphere, these ideas will have everyone dancing all night long.
Incorporate String Lights
Looking for some unique outdoor party decoration ideas? Try incorporating string lights into your décor! Not only are they beautiful, but they also provide a touch of elegance to any gathering. Here are some tips on how to tie them all together: 
1. Start by finding the right lights. Selecting the right outdoor string lights is important – make sure they're of good quality and have a sturdy cord. Choose lights that will coordinate with your other décor, and avoid those with flashing or blinking bulbs. 
2. Decide where you'd like the lights to hang. Place them along a fence, above lanterns or trees, or anywhere else that looks festive and romantic.
Use Outdoor Rugs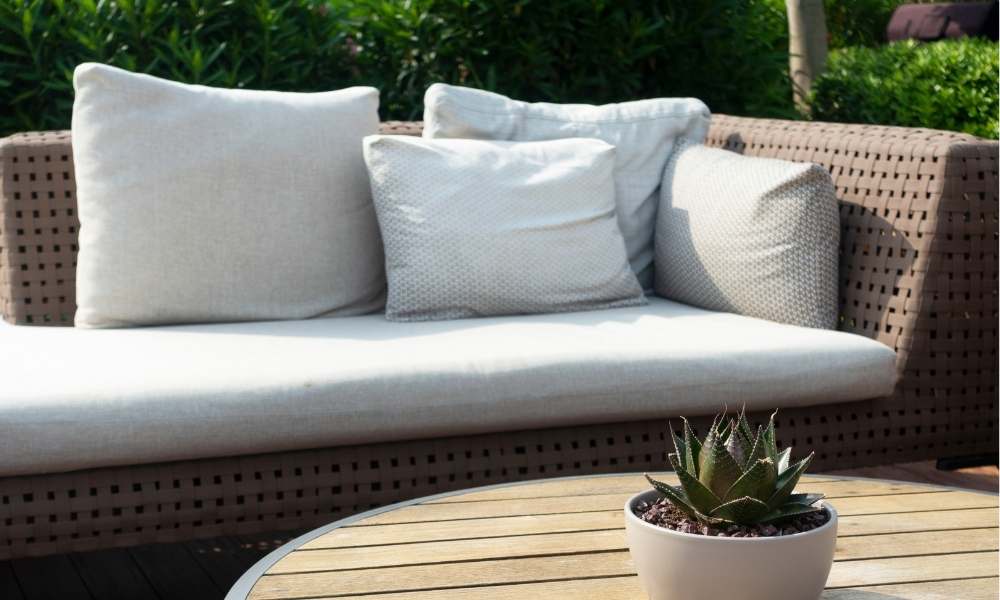 When hosting an night party, consider using a rug to add a touch of extra warmth and style. This is a great way to add texture and color to your party décor, while making sure everyone stays comfortable. Here are some ideas for using outdoor rugs at your next night out:
1. Place one in front of the fire pit to create a cozy spot to sit down and share stories around.
2. Add it near the dance floor for added cushioning when getting up and dancing.
3. Create a mini oasis in front of the pool or spa by placing a rug near the edge.
4. Use it as an accent in front of any garden plants for added beauty and tranquility.
Place Flowers in Glass Jars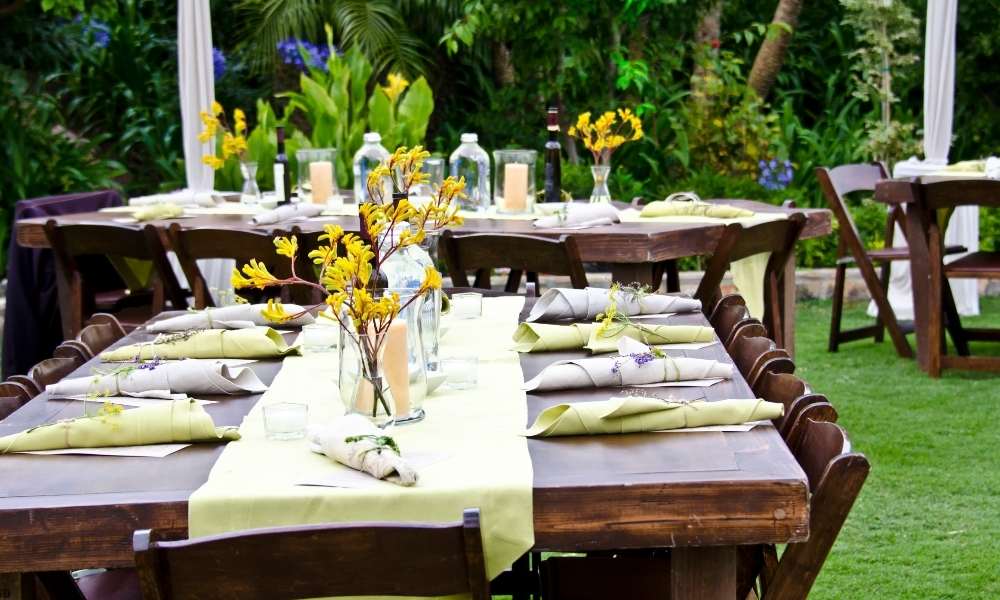 When planning an outdoor night party, consider adding a touch of nature with some beautiful flowers in glass jars. Not only do they add a natural look to your party decorations, but they also provide a fragrant backdrop for enjoying your evening festivities. Here are some ideas to get you started:
1. Choose brightly colored flowers like pink or purple Asteraceae species for a cheerful feel.
2. Try roses, lilies or irises for an elegant look.
3. For a more muted look, go with daisy-like plants like chrysanthemums or primulas.
4. Add single blooms or clusters of flowers in tall glass jars to create an elevated centerpiece on the table or buffet line.
Add Pillow Seating
Looking for night party decoration ideas? Add pillow seating to your list! This simple but stylish idea can add a touch of extra comfort and fun to your next party. Here are some tips to get started:
1. Choose a theme or color scheme that reflects your event. For example, if you're hosting a seaside party, go with a coral color scheme.
2. Decorate each seat with a beach towel or cushion, and fill them with pillows from your couch or bed. You can also add small toys, sandals, shells, or other beach-themed accessories for added whimsy.
3. Place votive candles in each seat and light them up at night for a romantic glow.
Use Solar Path Lights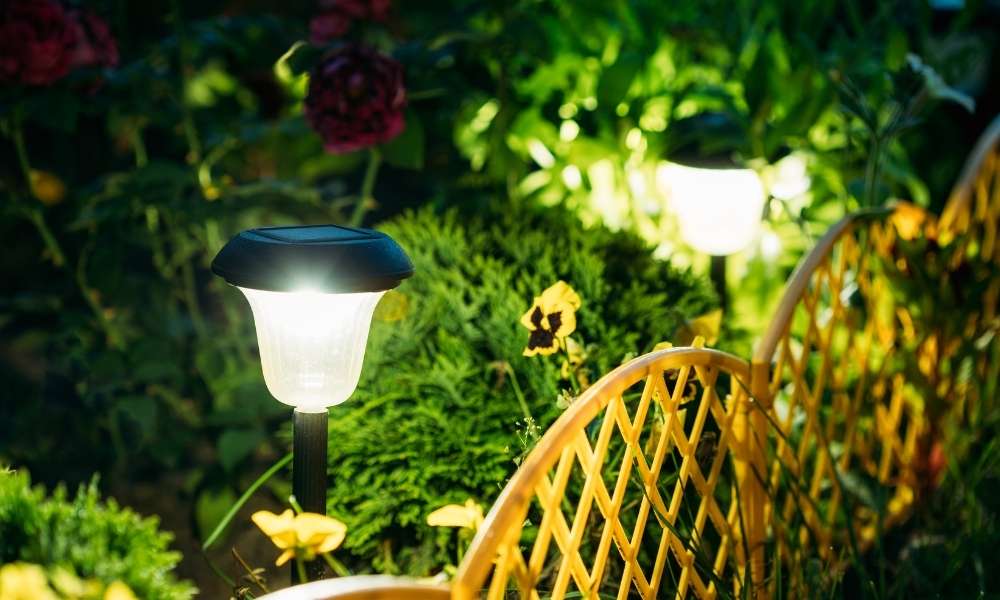 If you're looking for an easy and affordable way to add some festive nighttime decoration to your outdoor party scene, consider installing solar path lights. These small but effective lights can be set up in a matter of minutes, and they're perfect for adding an extra bit of sparkling glamour to any outdoor event. Plus, they're super affordable, so you can customize your nightscene without breaking the bank. Here are some of our favorite solar path light ideas:
1. Install string lights along a scenic pathway or walkway.
2. Hang festive lanterns from tree branches or posts.
3. Arrange blooming flower pots along the pathway.
4. String up holiday garland around tall trees or lamp posts.
5. Put up brightly glowing fairy lights in your garden or park.
Use a Grass Wall Panel Backdrops
If you're looking for creative and unique outdoor night party decoration ideas, consider installing a grass wall panel. This unique option can add an element of fun and excitement to your event, while also providing shade and privacy. Plus, it's a great way to showcase your personality and brand! Here are some tips on how to install a grass wall panel:
1. Choose the right type of grass – If you plan to install a grass wall panel outdoors, make sure the type of grass you choose is resilient enough to withstand the elements. Some options include Bermuda or zoysia grass.
2. Prepare the surface – Before installing your panel, make sure the surface is prepared by removing any existing vegetation, rocks, or debris. You can also remove any paint or sealant if necessary.
Invest In a Cabana Tent
Cabana tents are perfect for outdoor night parties! They can be set up in any location and provide a cozy, private space for guests to relax and have fun. Some ideas for using cabana tents at your next party include:
1. Setting them up in a park or nature reserve to provide a relaxing atmosphere before the party starts;
2. Using them as an annex to the main party area, providing a more intimate setting for small group get-togethers;
3. As the central focus of the party, creating an idyllic retreat with cabana beds, lanterns, and soft furnishings;
4. Providing shade from the sun during hot summer days.
Use a Party Tent
Looking for an outdoor night party decoration ideas? Consider setting up a party tent! These tents are easy to set up and provide plenty of space to dance, drink, and have fun. Plus, they make an adorable addition to any outdoor event. Here are some tips for setting up a party tent:
1. Begin by securing the tent poles in place using cable ties or rope. Make sure the poles are at least 6 feet tall and evenly spaced apart.
2. Next, spread out a layer of heavy duty plastic sheeting on the ground inside the tent. This will act as the floor of the tent.
3. Place your furniture inside the tent, arranging it however you like. Be sure to leave enough room for people to move around freely.
Old Hollywood Movie Night Party
Hollywood Movie is an outdoor night party decoration idea that will make your event stand out. By incorporating Hollywood movies into your night party, you'll be sure to create a memorable experience for your guests. Here are some tips on how to make this fun and easy to do:
1. Choose a backdrop or location that looks like the set of a Hollywood movie. This can be a simple piece of scenery, or you can create something more elaborate using materials like fake plants, fabric, and lights.
2. Invite guests to dress up as their favorite Hollywood stars. This is an easy way to add some fun and personality to your night party. You could also ask them to act out scenes from their favorite movies.
3. Serve themed cocktails and food items inspired by classic Hollywood movies.
Bonfire BBQ
Bonfire BBQ is the perfect outdoor night party decoration idea! Not only is it a fun activity to do with friends, but it's also a great way to celebrate the end of summer. Here are some ideas to get you started:
1. Decorate your bonfire with all your favorite summer decorations. This includes piñata bats and streamers, kites, and of course, food! Make sure to get creative and enjoy yourself while you cook on the fire.
2. If you have access to a gym or other large space, set up an obstacle course or game area for kids to play in. This can be anything from a giant spiderweb to a snake pit!
3. Set out beverages and snacks for everyone and get ready for some good times! Bonfire BBQ is the perfect way to cool off in the summer heat.
Ensure Plenty of Seats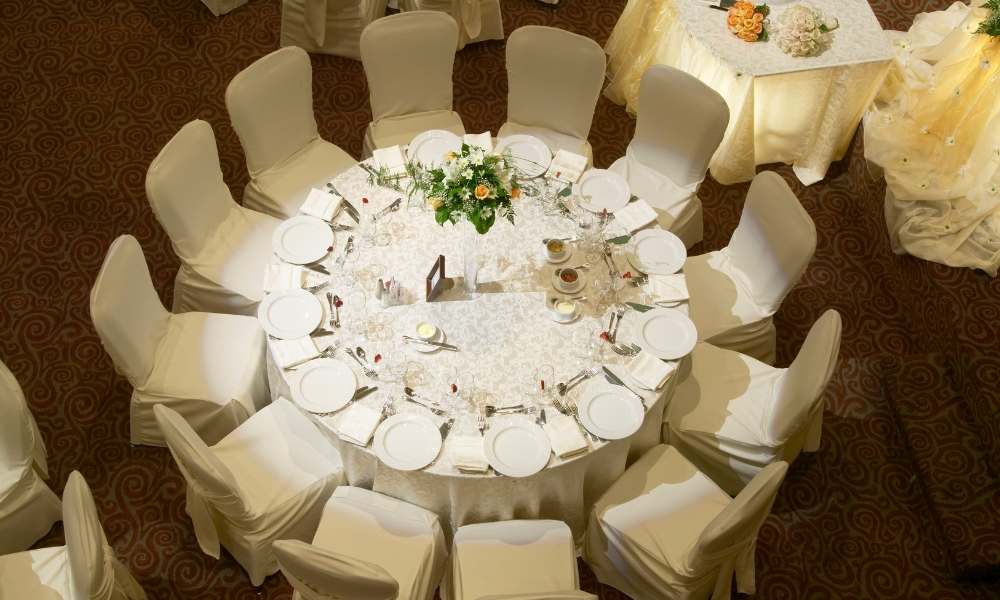 Whether you're hosting a small get-together or an outdoor night party, having plenty of seats is key. Here are some ideas for how to decorate with minimal effort and maximum effect:
1. Choose bright, cheerful colors and patterns for your seating area. A mix of geometric prints and cheery flowers will add a pop of color while still being comfortable enough for extended conversations.
2. Serve food on platters or in bowls on low tables. This way, guests can munch while they chat, and there's no need to strain their necks looking up at the sky all night long!
3. Keep drinks standing by in tall glasses or stainless steel pitchers. Not only is this convenient for guests, but it also looks chic and sophisticated – perfect for a formal event like a night out on the town!
Plan For all Weathers
Planning an outdoor night party can be a lot of fun, but it can be tough to figure out what to do in case of bad weather. Here are some ideas to help you get through any situation!
1. Prepare in advance. If you know there is a chance of bad weather coming, make sure to have everything ready in case it does. This includes having enough food and drinks, setting up tents and tarps if necessary, and making sure all the decorations are covered.
2. Don't be afraid to change things up. If the weather starts going against you, don't hesitate to switch plans or even cancel the party altogether. This way everyone can still have a good time no matter what happens outside!
3. Be flexible. Sometimes bad weather will come and go quickly, other times it might linger for hours on end.
Go Big With Balloons
When it comes to outdoor night party decorations, there is no better way to wow your guests than with a colorful balloon display! Not only are they visually stunning, but balloon decor can also be fun and interactive – perfect for keeping everyone entertained. Here are some ideas for using balloons as party decor:
1. Use them as part of a whimsical floral arrangement by filling them with brightly colored foam balls or shredded paper flowers.
2. Create an overhead banner out of colorful helium balloons – suspending it from a tall tree or pole for extra impact.
3. Hang individual balloons from garden arbor or patio railing tips, letting the wind create darling patterns in the air.
4. Fill small pool toys like boats or floaties with helium balloons and let guests dive in for a swimming party.
Make Space For Guests to Relax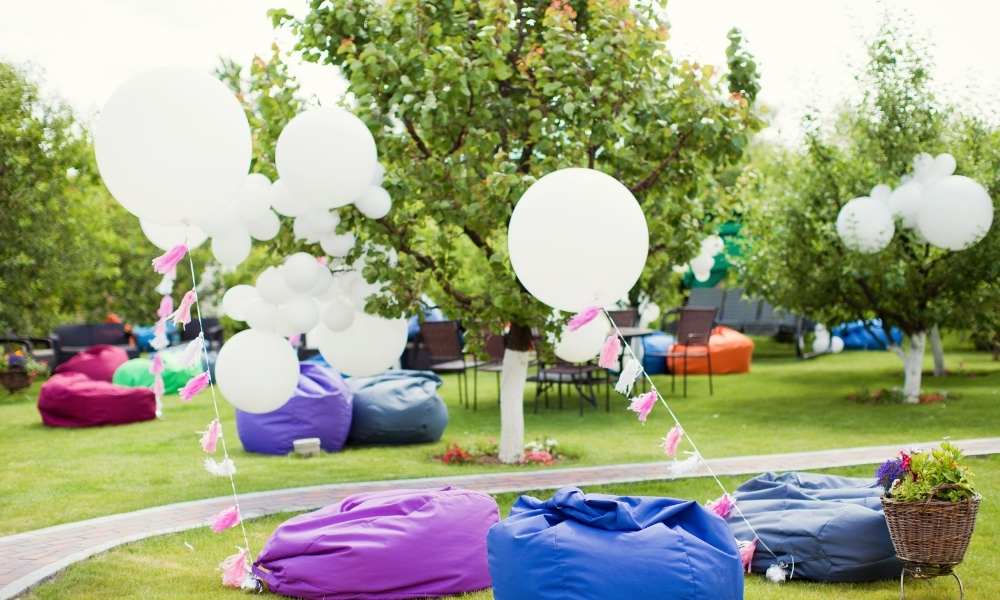 When hosting a party outdoors, it's important to make sure your guests have plenty of space to relax and enjoy themselves. Here are some ideas for outdoor night party decoration that will make your guests feel at ease:
1. Create a relaxing atmosphere with soft lighting and comfortable seating.
2. Include aromatherapy candles or diffuser scents to help set the mood.
3. Choose calming plants or foliage to add a touch of nature.
4. Let your guests spread out their belongings on the ground if they want some peace and quiet.
5. Serve light refreshments like tea or fruit smoothies so everyone can take their time enjoying themselves.
6. If you have a fire pit or grill, let your guests cook up some steaks or chicken while they chat away!
The Final Thought
In conclusion, here are some great outdoor night party decoration ideas to help make your event extra special! From winding paths lit with lanterns and torches, to themed tents filled with delicious food and drinks, there's sure to be something that will fit your unique style. So get creative and have fun! Make sure to invite all of your friends for an unforgettable night under the stars!