Roof terraces offer a splendid opportunity to introduce green spaces into urban settings, creating a peaceful sanctuary amid bustling city life. Small roof terraces, in particular, present an exciting design challenge, demanding creativity and innovation to transform them into functional, aesthetically pleasing spaces. With the right design elements from the furniture selection. And arrangement, plant choices, lighting solutions to color schemes. These compact areas can be metamorphosed into beautiful, personal retreats. Here, we will delve into a series of covered small roof terrace design ideas to inspire you and aid in crafting your unique outdoor haven.
What is a covered small roof terrace and what are some of its benefits?
Covering small roof terraces allows you to enjoy the benefits of a rooftop garden without the hassle and expense Of constructing one from scratch. Covered small roof terraces can be An ideal addition to any home, providing both privacy and fresh air. While a roof terrace is not as versatile as A full-blown rooftop garden. It can provide a great spot to relax and entertain guests.
Covered Terrace and Curtains
A covered terrace is a perfect addition to any home. It adds A touch of sophistication and can provide an outdoor retreat from which to relax and enjoy the outdoors. With a few design ideas, You can transform your roof terrace into a beautiful oasis with plenty of styles.
The first step in creating an inviting space is to select the right materials and fabrics for your project. Choose weather-resistant fabrics such as canvas or synthetic that will stand up to the wind. And rain while still providing privacy when needed. Install curtains on tracks along the perimeter of your roof terrace for added protection against sun, wind, And nosy neighbors. Opt for sheer curtains if you'd like some natural light to filter through while still providing additional shade and privacy when necessary.
Kitchen and Fireplace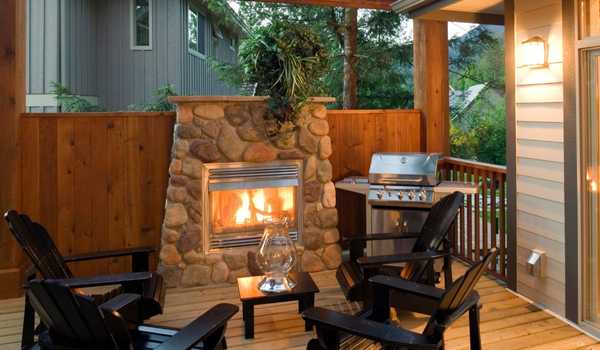 When designing a covered roof terrace. It's important to embrace both function and style. With the right combination of elements, you can create an inviting outdoor space that will draw your family and friends outside for enjoyable evenings of relaxation around the fireplace.
A kitchen with a fireplace is an ideal way to bring the comforts of indoor living outdoors. A well-designed kitchen will include all the necessary amenities such as a refrigerator, sink, oven, stovetop, and plenty of counter space. Consider adding built-in seating along one side to provide extra seating while entertaining guests or just relaxing during cooler evenings. For added warmth and atmosphere, install a stone or brick fireplace near the kitchen area so you can gather around it while enjoying good food and conversation. You can further enhance your outdoor area by adding colorful rugs or cushions on benches for additional comfort and style.
Decorative Furniture in Ethnic Style
Decorating a covered small roof terraces can be A challenge. But adding ethnic-style furniture can bring the beauty of the outdoors to your indoor Or outdoor space.
There are many ethnic-style pieces that are perfect for adding an exotic flair to your rooftop. From brightly colored pillows and throws to intricate wooden furniture and intricately designed ottomans, there is something for everyone. Whether you want to create an intimate gathering area or just want a place to relax and enjoy the views with family and friends, ethnic-style furniture will help you achieve the look you desire.
The possibilities are endless when it comes to choosing decorative furniture in an ethnic style for your small roof terraces. Not only will it provide comfort and beauty. But it can also be used as a conversation piece that adds personality and uniqueness to any setting.
Large Windows Ceiling
For those looking for A unique way to bring the great outdoors into their home. Large windows ceiling is a great option. This design idea incorporates bringing in natural light and fresh air from above while still providing shelter from the elements. With plenty of creative options available. It's easy to create inviting covered small roof terraces that will fit perfectly with your home's style.
Large windows and ceilings can use for a variety of purposes from simply providing ventilation and natural light to creating an outdoor living space where you can entertain guests or just relax in peace. Depending on how much space you have available. You can choose between floor-to-ceiling glass or glazed panels and frames in various shapes and sizes.
White Furniture With Geometric Shapes
The covered small roof terrace is Aan increasingly popular design choice for homeowners looking to make the most of their outdoor space. Whether you're looking for a place to enjoy your morning coffee or host dinner parties, White furniture with geometric shapes can add visual interest and charm.
To create A modern look, Opt for mid-century-inspired pieces such as round tables and chairs with bold lines. To give the space a more relaxed feel, Choose curved chairs paired with natural wooden accents like benches or planters. Use bright colors in pillows and throws to create contrast against the neutral colors of the furniture. For extra seating, opt for simple stools that can be tucked away when not in use or foldable chairs that can easily be put away when entertaining guests.
Vintage Flair
When you're looking to add A touch of vintage flair to your outdoor space, there are many ways you can do so. A covered small roof terrace is one Of the most popular options when it comes to adding some extra style and charm to your backyard. With its intimate atmosphere, this type of design provides a great way for family and friends to gather And enjoy the outdoors. 
The key to creating the perfect covered small roof terraces lies in choosing the right elements that will bring out its rustic charm. You could start with An old-fashioned wooden picnic table, Or maybe an iron bench complete with cushions for added comfort. String lights hung from above create an ambient glow at night, While antiques can be used as planters for trailing greenery around the space.
Concrete Floor and Single Seat Cushion
A covered rooftop terrace with A concrete floor and comfortable single seat cushion is the perfect way to enjoy the outdoors while staying sheltered from the elements. This roof terrace design can be used for A small space, such as a covered patio Or small roof terrace. The concrete floor gives your space a sturdy foundation, making it easy to lay down tiles or pavers for a beautiful tile or stone flooring option. 
A comfortable single-seat cushion makes sitting around the table easy and provides extra seating for guests who want to share in your outdoor adventure. Whether you are hosting An intimate dinner party or simply want to take A break from the sun, this rooftop terrace design is perfect for your needs.
Furniture Create Contrasts
A covered small roof terrace design ideas can create A cozy and inviting space on top of your home. Whether you live in A warm climate or not. By using materials that contrast with the surrounding landscape, you can create a striking focal point while also adding insulation And shade to your property. Here are some tips for creating a covered small roof terrace: 
When choosing materials for your covered small roof terraces, consider using materials that contrast with your surroundings. For example, if your property is located near a blue ocean or green fields. Use light colors like blue or green to highlight the beauty of nature. Conversely, if you live in an urban environment surrounded by buildings and pavement, use darker colors like black or brown to create a more subdued atmosphere. 
White Patio Furniture and Modern Lighting
If you want to add a touch of elegance and modernity to your small roof terraces, consider using white patio furniture and modern lighting. This combination will give your terrace a high-end look that is perfect for entertaining guests.
While there are many covered small roof terrace design ideas available, choosing the right one for your home is important. Make sure to think about how you'll use the space, what style you want to emulate, and what features are essential for you. With a little creativity, it's easy to bring the outdoors inside without sacrificing comfort or style.
Folding Glass Doors
If you want to add a little extra outdoor living space to your home, consider installing a folding glass door. These doors are perfect for small roof terraces or patios, and they can be installed in just a few minutes. You can choose from a variety of styles and colors, so you can create a custom look for your property. Plus, with covered small roof terrace design ideas, you can protect your deck or patio from the weather while still letting in plenty of natural light.
Dining Table with Built-in Fireplace
There's nothing quite like enjoying a relaxing dinner outdoors on covered small roof terraces. Not only is it an excellent way to enjoy the gorgeous weather, but it can also be quite scenic depending on your location. If you're planning on adding a built-in fireplace to your dining table, be sure to take into account the surrounding geometry and architecture. That way, you'll create a cozy and unique space that will be perfect for enjoying your meals with friends or loved ones.
Garden Swing
There are many different ways to cover small roof terraces with a garden swing. One option is to use a large, heavy-duty tarp. This will provide shade and protect the terrace from rain and snow. Alternatively, you can create a lightweight cover using materials like plastic sheeting or mosquito netting. You can also use an attractive frame made from wood or metal, either covered in fabric or painted in a cheerful color. Whatever type of garden swing you choose, make sure it's comfortable and weatherproof for your guests!
Wooden Pergola in the Garden
A covered roof terrace provides an easy and stylish way to enjoy the garden without having to go outside. You can create a covered roof terrace using a wooden pergola, providing protection from the sun and rain while still allowing you to enjoy the view. There are many design ideas available for covers, from simple fabric or rope covers to elaborate wood structures. Choose the style that best suits your needs and personality, and enjoy your covered roof terrace in the garden!
LED Street Lights
If you are considering installing a covered small terrace on your property, there are a few key things to keep in mind. First, consider the location and size of the terrace. You don't want to cover up an important part of your home or block views from neighboring properties.
Second, be sure to select LED street lights that will work well with the architecture of your roof terrace. Third, consider the type of roof terrace material you will be using and whether or not it needs any additional protection. Fourth, make sure that your electrical wiring is compatible with LED street lights. And fifth, be sure to hire a professional installer if you decide to install a covered roof terrace.
Fresh Color of Green Grass
Covering a small terrace with green grass is a great way to add some fresh color to your home and to make your terrace more inviting. If you have a covered roof terrace, adding some greenery can give you the illusion of sky coverage. You can choose plants that will grow quickly and provide year-round privacy shade, such as creeping thymes or lantana. Alternatively, if your roof terrace has no cover. You could add low-growing evergreens like boxwood or witch hazel to create an appearance of height and privacy.
Railing Glass View
This roof terrace, covered by railing glass, is designed to provide privacy and shade for a small space. 
A rooftop terrace can be the perfect place to relax and enjoy the views. A variety of covered roof terrace design ideas can help you create a relaxing space that is perfect for your needs. From low-profile roofs to elevated perches, there are plenty of options to choose from. 
If you're looking for something that will offer more privacy, consider installing railings or screening. These accessories can help divide the space into separate zones, providing a more seamless experience. Alternatively, consider using plants or balustrades to add height and interest to your roof terrace.
Water Wall and Bamboo Plants
A covered roof terrace design can be created with a water wall and bamboo plants. This is a great way to get your feet wet in the world of roof terracing, while still keeping a cool and comfortable space. By using this type of design, you can add natural elements to your space while also enjoying the benefits of a green roof.
Rustic Wooden Boats
Enjoy the serenity of a covered small terrace while taking in the sights and sounds of your backyard with rustic wooden boats. These vessels come in many shapes and sizes, so there's sure to be one that suits your needs and style.
Find a boat that has been well-crafted with natural materials like logs or boards, giving it a natural look and feel. If you'd like something more elaborate. Consider adding decorations like ropes or planks to give your boat an extra nautical flair. And finally, don't forget to add a little seating area for enjoying your surroundings while relaxing!
Advantages of covered small roofs terraces
There are many advantages to covered small roofs terraces. The first is that they keep your roof deck or terrace cool in the summer and warm in the winter. They also reduce the need for air conditioning, since the heat from the sun can be absorbed by the deck or terrace. Finally, they provide a space for relaxation or entertaining that is out of the direct sunlight and noise of the main living area.
The Final Thought
Covered roof terraces are a great way to add character and functionality to your home. They can provide a beautiful place to relax or entertain guests, and can be tailored to complement any style. If you're interested in adding a covered roof terrace to your home, be sure to consult with a contractor who knows the ins and outs of this unique design.